Today was a great day. Elijah napped in the morning dive with grandpa and he seemed happy and refreshed and ready to work afterwards…Elijah that is, maybe not grandpa. Ha! J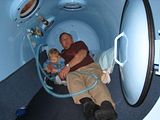 Elijah's PT set up an obstacle coarse and he spent a lot of time just walking around trying to maneuver over and around objects. He did great. He hardly fell down at all. He's falling much less than he did when we first got here.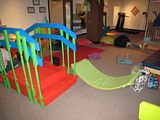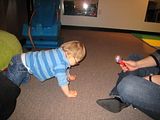 The therapists were probably sick of hearing me talking about it, but I kept saying that I felt like something changed in Elijah yesterday. Ever since, he just seems to be a bit different to me. Like something new clicked in his brain. Like he's seeing better, looking up more, keeping his hands more open. I don't know, he just seems a little different – and I can't exactly put my finger on it. It's like he has brighter eyes again.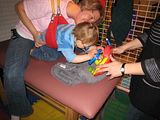 Today Elijah was playing with a toy quite efficiently with BOTH of his hands, which is pretty exciting. It was a steering wheel and he was using both of his hands to play with it. I feel some changes a brewin'.
Tweet