Our first week is completed! Phew! We are now one-forth our way through this adventure. I know this whole experience is going to go by fast and I am so incredibly glad that we are here and doing this for Elijah. I think we're already seeing changes in him.

Elijah was in a really good mood on Friday. He seemed ready and willing to work. This whole experience has been easier because Elijah loves it. Work is play to him, which is exactly how it should be.
Some of the things Elijah did on Friday were:

played in shaving cream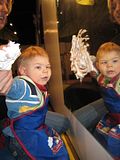 got some kinesio tape put on his back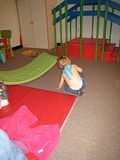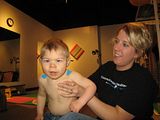 and practiced balance and reaching.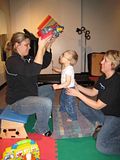 We've really been noticing that Elijah has been holding his head up more while walking. He still looks down quite a bit, but I've been seeing him hold his head up more consistently and I'm so excited. I can't wait to see what changes we'll see by the end of the month.
Tweet