Day three completed and we're still plugging along. Elijah didn't sleep well last night and still performed throughout the day (what happened to him sleeping through the night? I was so hoping that would become a new norm). I'm so proud of him and I'm hoping for some big changes this month.
Speech therapy is going well and I'm excited to see if it will help with his drooling, his eating, and eventually - of course - with talking! His therapists have said it's really good that he is willing to let them explore in his mouth, which is a precursor to speech. Yay! I dream of the day when he can tell me what he wants instead of screaming, crying, and having temper tantrums.

His physical therapy sessions are going well too. We're really working on getting him to hold his head up when he is walking (as he tends to walk around with his head looking at the ground). He walked on a treadmill today and his PT discovered that if she put a visual barrier between Elijah and his feet, he held his head up more. So, when I think that he is looking at his feet while he's walking, he really is! I'm hoping that by the end of this month, he'll be standing up tall - walking with his head held high
.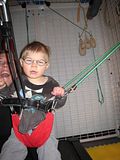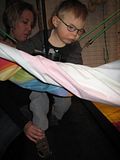 We're also doing a little bit of therapy to try to encourage Elijah to use his left hand more (he prefers to use his right hand). So, for an hour each day, we constrain his right arm so he has to use his left. The funny thing is, Elijah doesn't even seem to mind...he just uses his left hand instead. We've also been working with him in four-point (the crawling position) to try to get him to gain strength in his hands. I hope all of this hard work will help him to use both of his hands more, which would be our ultimate goal for him this month.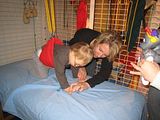 HBOT…well, Elijah is still not fond of the chambers. I can't say I blame him. He's starting to have temper tantrums in the waiting room now, not just the room where the chambers are located. He knows what is coming and he's not happy about it. He is terrified of the hood he has to wear to go in the chamber, which makes me feel terrible. He will usually cry for a few minutes after we get in the chamber because he's mad about the hood, but he is getting consistently calmer once we're inside. This morning he was actually laughing and being a stinker and wouldn't take a nap for me, so I don't think he's all that scared anymore. In the afternoon, he cried for about a minute and then fell fast asleep for 45 minutes, in which case, so did I! I feel a bit guilty about his lack of naps, but remind myself that he hardly naps at home either, no matter how hard I try. So, we might as well be working, right? I think so,as I feel changes-a-brewin'.

Thanks for reading about our adventure and keeping us in your thoughts and prayers.
Tweet