Yesterday, Elijah was pretty tired. What's new, right?

Since it was our last day with Elijah's primary PT, Amy, we chatted a lot about stuff that I can do with Elijah at home. I'm starting to wonder how I will keep him entertained every day. He's probably going to get bored with me after being entertained all day long by therapists for the last month! J

The first thing the PT or OT did every morning (this entire month of therapy) was to heat up Elijah's left arm with a hot pack and then massage it. This would help his left hand become unclenched. Here is Amy massaging Elijah's hands yesterday…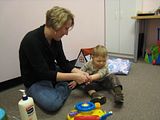 The kid has abs of steel. I really don't think that I would be able to do all the things he's able to do on a ball…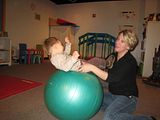 Elijah's new friend, Ben, made him a going away card. I asked him what the drawing was at the top and he said they were "silly stairs" (He must've noticed all of the stair climbing Elijah did!). I loved how Ben would call Elijah "Jah" at times. What a sweet little boy. "This is for you E-Lie-Jah, I'm going to miss you." So sweet!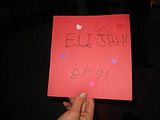 In speech therapy, Elijah removed a ring all by himself!! I wasn't even watching that closely, because it kind of came out of nowhere. It was unprompted and it's just an example of how much more Elijah is using his hands. See the orange ring on the floor? Elijah took it off all by himself!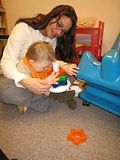 We had to say goodbye to Amy yesterday. Bye Amy! Thanks for everything.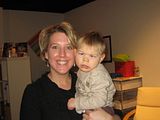 As I write this, we're completing our final day of therapy. Tonight we drive home. Keep us in your prayers for safe travels.
Tweet