It was back to the coal mines for us today. While it's hard to get back in the routine after having our relaxing four-day weekend, we realize that this experience will be over faster than we can blink. I'm trying to remind myself to make the most of it.

I feel much better and I'm glad that we decided to take a break. I was able to get some extra rest these past four days - AND with the help of some weights our PT lent us, Elijah has been sleeping much better at night. What a blessing that has been! He slept for twelve uninterrupted hours on Wednesday night and he's been sleeping better ever since. There has been more than one night I've woken up without a small child laying near (or on top of) me! It's been a long time since that's happened. It's been nice and I hope it continues.

Pics from the weekend...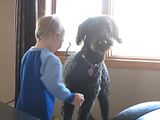 We're on the downward stretch and Elijah keeps making improvements. He seems so much faster these days. I take my eyes off of him for a moment and he's playing in the dog food (Aunt Darlene moved the dog's water, so he's got to play with something, right?...) or walking down the hallway (sideways...) or licking the floor (we're working on that one). He's a silly boy and I love it.
Tweet