Elijah and I are getting pretty tired. Go figure, huh? J

Being tired can be a good thing, though. For example, Elijah took a nap today during both of the hyperbaric sessions. The poor little guy always knows what's coming, but once inside the chamber, he seems to know that it's nap time. Even if he takes a long time to fall asleep, he just lays and cuddles with me. It's relaxing and kind of nice, actually.

Elijah does really enjoy his physical, occupational, and speech therapy - but he did get a bit grumpy today. It's actually pretty amazing that he hasn't been grumpier. He's really been a trooper this week.

Today, he got to play with his hands in the water…and practice using "lefty."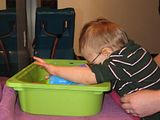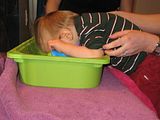 He got to work on his balance.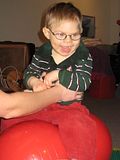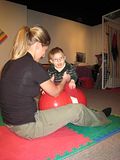 And he did great in speech therapy. He's working on learning how to drink from a straw. I'm so excited about that!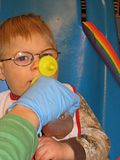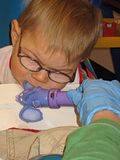 Things are going well as we near the end of week one. I'm trying to pay close attention so that I can do some of this therapy for Elijah when I get home. I consider this therapy training for me as well.
Tweet