Elijah did great today.

The biggest news is that Elijah put a spoon in his mouth several times today! It was so awesome. He would do it, we would all cheer, and then he would do it again, we'd cheer, and so on. I can't even begin to tell you how exciting this is. While most parents are trying to teach their children to not put things in their mouths, we've been working on getting him to put things in his mouth for a long time. Did I mention that I'm excited?! I am so, so excited.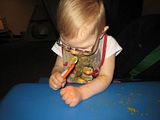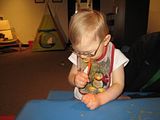 I joked when we left for this adventure that I expected Elijah to be feeding himself by the end of this month. Now I'm thinking perhaps it's a possibility! He got a spoon (with food on it) in his mouth today, now we just need to get him to eat the food and keep doing it over and over again. Hmmm, probably harder than it sounds, but we're getting there and I couldn't be happier. To me, there is no doubt that he will at some point self-feed (hopefully soon) and that is just so encouraging, exciting, and awesome.

I also think that Elijah is keeping his lips closed more while he is eating and he's making more chewing motions. Exciting stuff.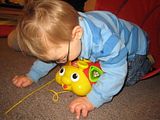 The poor little guy is working a full-time job and he's tired, but he's such a trooper. He actually loves all of this. He loves the attention, he loves the work (play), he just loves to be alive. We'll see what tomorrow will bring…
Tweet