If Elijah was tired yesterday – today he was exhausted. Near the end of therapy today he kept cuddling with his PT and was trying to fall asleep while pretending to be Superman. Poor little man - but he did get to nap in the chamber afterwards. We sure are glad that we get a much needed break for the weekend.

One of the things we did today was work on learning how to safely get down from a surface. The stinker kept trying to walk over to the tiny edge that had no yellow on the edge.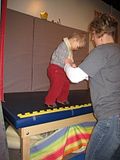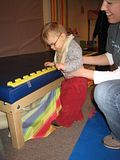 Elijah is doing really well in the chambers these days. He doesn't really cry much anymore and tries to crawl and walk around the chamber. It's kind of difficult to keep the oxygen tubes from getting all tangled, but at least he's having fun. The best is when he takes a nap (so that I can sneak one in too).
It's nice to have daddy around and I'm planning on having a relaxing weekend.


We're now halfway through our latest adventure. It's going by fast.
Tweet