Elijah is twenty months old today. Can you believe it? I certainly can't. (I know, I say that every month!)
Yes, those are scrapes and bruises on the cute little guy's face. It seems he always has some sort of bruise or scrape these days. This time he fell walking up the neighbors driveway and scraped his face and nose. He cried for a moment and then wanted to be put down so that he could walk some more. Such a goofball.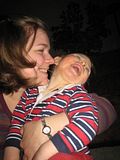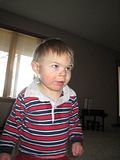 Our little man is developing such a little personality. He's always had his own personality, but it's shining through more. I love it.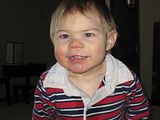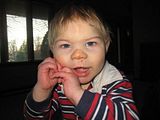 Tonight Elijah and daddy were playing leap frog. It was hilarious. I love that it seems Elijah is trying to imitate his dad. Well, see for yourself…

Happy Twenty Months little man. You're growing up too fast!
Tweet