Hello everyone.  Sorry we've dropped off the face of the blogosphere planet; it's been very busy around Elijahland since we've been home.  
I wrote the following post on the last day of therapy - Tuesday, March 31st, 2009.  I didn't get a chance to post it before we left for our drive home and I'm just posting it right now.  Anyway, without further ado, here is our day twenty post...  
==============
It is Elijah's last day of intensive therapy and HBOT! Yay balloons for our last day!


I have to say, I think that I'm going to be a teeny bit sad to go home. It's been nice to have so many people working with Elijah for hours each and every day. Mostly, though, I'm thrilled to think that tonight I'll be sleeping in my own bed. That sometime in the near future Elijah and I will have a day where we won't have anywhere to go or anything to do. I'm looking forward to spending a day in our house and our yard with nothing on the schedule but to play – to be a "stay-at-home" mom and a "stay-at-home" son. I know that those days, even at home, are few and far between and I fully intend to enjoy them.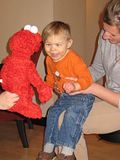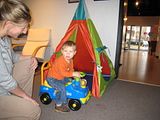 Today, Elijah was really tired again. He did sleep through the night last night and I keep hoping that'll become a regular occurrence. The nice thing about a sleepy Elijah is that he kept trying to cuddle with me during therapy. He walks over to me, sucking on his hand, and then just collapses on me to snuggle. I was lying on the floor when he decided to climb on my back - anything to get out of the last day of therapy!


Elijah learned how to bite a vibrating teether today. When he bites it, the teether vibrates. Andrea, his speech therapist, said that it takes some kids months to figure that out. Elijah figured it out within a matter of minutes. Way to go, Elijah!


Here is Elijah with Andrea.  She taught Elijah (and me) so much. Thanks Andrea!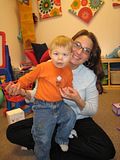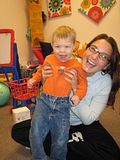 As of today, we've completed 80 dives, 40 this month and 40 last September. Elijah is in the chamber for his last dive as I write this. We got to say goodbye to everyone today.  Here is Elijah with some of his therapists...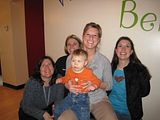 This is Elijah and his new friend Brecken (with daddy and Brecken's Grandma).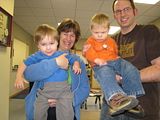 Isn't Brecken a cutie? Brecken's family read about Elijah in the paper and he's currently undergoing HBOT treatments - all because they read Elijah's story in the paper.  Isn't that awesome? Elijah and Brecken were in the same hospital at the same time and are less than two weeks apart in age.  I'm sure the family wouldn't mind prayers for the HBOT therapy to help Brecken on his road to recovery, I think that they've seen some changes already.
As you read this, we're probably on our way home (or already there!). Thanks for sending us so many prayers this month. Elijah is doing great!
Tweet