Elijah was pretty tired today. It's a good thing it's almost the weekend so that we can all rest!

Andy arrived late this evening and I'm looking forward to having him around for tomorrow's therapy and for the weekend. It's so nice to have our whole little family in the same state at the same time.

Even though the little dude is tired, he's still doing well. We worked on spoon feeding again, but the stinker would much rather have his mom feed him (It's so much easier that way!). He was able to get the spoon in his mouth again today, so we'll get there - with time and patience.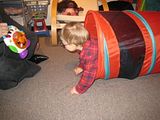 Overall, things are going really well and the days are going by fast. Goodnight all!
Tweet